Our Wool is ethically sourced from all over the world. We have an endless variety of wool ranging from Natural Wool from the Hindu Kush mountains in Afghanistan to New Zealand Wool from the deep south of the world, Kashmir Wool (Cashmere), Peruvian Alpaca Wool, Vicuna Wool, Yak Wool, Mohair Wool, Tibetan Wool, and many more types that will require a seperate list to mention.

Most varities of Silk, ranging from wild silk, sea silk, Mulberry silk and many more varieties.
Environmentally friendly synthetic fibres such as Tencel and Viscose (both made from natural sources found in plants). As well as natural vegan friendly plant fibres such as Linen, Hemp, Cotton and Jute.
Many of these fibres can be blended to put together properties of two or more fibres in one.
We have both handspun and millspun varieties of fibres.
Our colors are dyed with environmentally friendly Azo Free Dyes.
Our weavers are the pride of the company, professional and diligent, they put in great skills and craftsmanship in their works.
Types of knotting/weaving styles-
Hand-knotted [Senneh (Oriental/Persian), Tibetan]

Flatweave or Kilims or Dhurries

Handloom

Handtufted

Soumac

Jaquard

Braided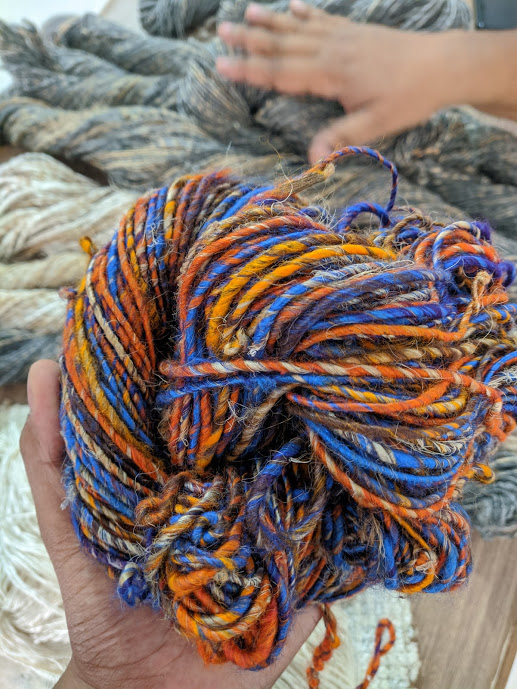 With skills and precision passed down through generations, we keep the quality second to none and continue to serve our clients with the highest industry and ethical standards.
At Jahan Rugs We are strongly against child and bonded labour.
Senneh (Persian Knot)/Asymmetric Knot
To make this knot, the yarn is encircled around only one warp. Then the yarn is passed behind the adjacent warp so that it divides the two ends of the yarn. Made with thorough technique and skill, high quality Persians are are the gems of the industry, long term investments and symbols of status. Persian Knotted rugs made outside of Iran are called Oriental Rugs.
Tibetan Knot
This knot is made by using a temporary rod along with the width of the carpet. A continuous yarn is wrapped around two warps and one time around the rod. After the loops are finished, the row is slashed to make a cut pile Tibetan rug. A true Made In Tibet rug is hard to find these days even in Tibet. The rarity makes the original was very expensive. India and Nepal export most of the modern Tibetan knotted rugs today.
Hand Tufted
These rugs are tufted by hand using a tufting gun onto a fabric sheet. Once the rug is finished, a back cover is glued to hold the yarns into place and the front facing rug is trimmed. With a rising market and cost conscious consumers, these are usually cheap and easy to make.